BARUCH ISRAEL PRAYER/TOUR
A Transforming Experience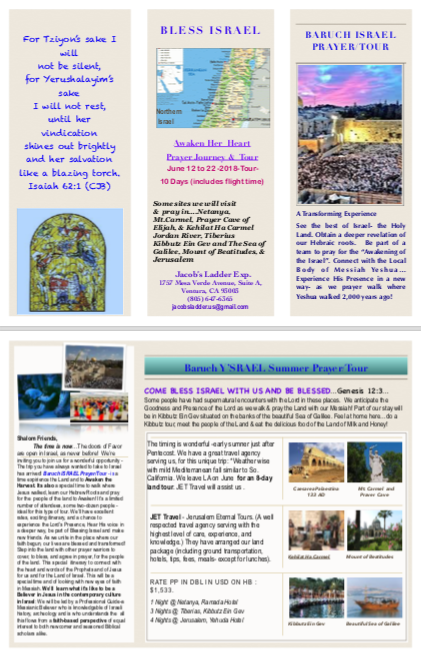 See the best of Israel- the Holy Land. Obtain a deeper revelation of our Hebraic roots. Be part of a team to pray for the "Awakening of the Israel". Connect with the Local Body of Messiah Yeshua… Experience His Presence in a new way as we prayer walk where Yeshua walked 2,000 years ago!
"For Tziyon's sake I will not be silent,
 for Yerushalayim's sake I will not rest,
 until her vindication shines out brightly
 and her salvation like a blazing torch." – Isaiah 62:1 (CJB)
BLESS ISRAEL Awaken Her Heart
Prayer Journey & Tour
June 12 to 22 -2018-Tour- 10 Days (includes flight time)
Some sites we will visit & pray in:
Netanya
Mt.Carmel
Prayer Cave of Elijah
Kehilat Ha Carmel Jordan River
Tiberius
Kibbutz Ein Gev
The Sea of Galilee
Mount of Beatitudes
Jerusalem
Jacob's Ladder Exp. 1757 Mesa Verde Avenue, Suite A,
Ventura, CA 93003 (805) 647-6365 jacobsladder.us@gmail.com
Shalom Friends,
The time is now…The doors of Favor are open in Israel, as never before! We're
inviting you to join us for a wonderful opportunity – The trip you have always wanted to take to Israel has arrived! Baruch ISRAEL Prayer/Tour – is a time expirience the Land and to Awaken the Harvest. Its also a special time to walk where Jesus walked, learn our Hebrew Roots and pray for the people of the land to Awaken! It's a limited number of attendees, some two-dozen people – ideal for this type of tour. We'll have excellent rates, exciting itinerary, and a chance to experience the Lord's Presence, Hear His voice in a deeper way, be part of Blessing Israel and make new friends. As we unite in the place where our faith begun, our lives are blessed and transformed! Step into the land with other prayer warriors to cover, to bless, and agree in prayer, for the people of the land. This special itinerary to connect with the heart and words of the Prophets and of Jesus for us and for the Land of Israel. This will be a special time and of looking with new eyes of faith in Messiah. We'll learn what it's like to be a Believer in Jesus in the contemporary culture in Israel: We will be led by a Professional Guide-a Messianic Believer who is knowledgable of Israeli history, archeology and is who understands the all this flows from a faith-based perspective of equal interest to both newcomer and seasoned Biblical scholars alike.
Baruch Y'SRAEL Summer Prayer/Tour
COME BLESS ISRAEL WITH US AND BE BLESSED…Genesis 12:3… Some people have had supernatural encounters with the Lord in these places. We anticipate the Goodness and Presence of the Lord as we walk & pray the Land with our Messiah! Part of our stay will be in Kibbutz Ein Gev situated on the banks of the beautiful Sea of Galilee. Feel at home here…do a Kibbutz tour, meet the people of the Land & eat the delicious food of the Land of Milk and Honey!
The timing is wonderful – early sumner just after Pentecost. We have a great travel agency serving us, for this unique trip: *Weather wise with mild Mediterranean fall similar to So. California. We leave LA on June for an 8-day land tour. JET Travel will assist us .
Details
JET Travel – Jerusalem Eternal Tours. (A well respected travel agency serving with the highest level of care, experience, and knowledge.) They have arranged our land package (including ground transportation, hotels, tips, fees, meals- except for lunches).
RATE PP IN DBL IN USD ON HB : $1,533.
1 Night @ Netanya, Ramada Hotel
3 Nights @ Tiberias, Kibbutz Ein Gev
4 Nights @ Jerusalem, Yehuda Hotel
Caesarea Palaestina 133 AD
Mt. Carmel and Prayer Cave
Kehilat Ha Carmel
Mount of Beatitudes
Kibbutz Ein Gev
Beautiful Sea of Galilee